The horn of plenty of QTP events and happenings.
In 1999, Theatre Group Bombay (TG) approached Q Theatre Productions (QTP) to showcase younger theatre groups in a vibrant festive atmosphere and thus 'Thespo' was born. Thespo was created to give young performers an opportunity to hone their talents on a simulated professional stage. Through Thespo, TG and QTP hope to recognize and encourage new talent as well as create a new generation of theatre goers.
Join us as we explore the stage anew with loads of cutting edge youth theatre, platform performances and workshops conducted by the who's who in theatre. Originally started as just a one off festival at the end of each year, Prithvi Theatre and Thespo have joined hands to provide a more regular show casing of the best youth theatre talent in the country. Thus in March 2007, Thespo at Prithvi was born. The first Tuesday and Wednesday each month, the next generation of theatre wallahs stride across the hallowed Prithvi stage.
Aside from regular full length theatre, Thespo at Prithvi is also providing an opportunity for young theatre groups to showcase their short plays, as a pre show appetizer before the main show on each Thespo at Prithvi show day. If you have a play that you think can work in the outdoor areas of Prithvi Theatre, email us at thespo@gmail.com
Thespo at Prithvi...it's not just on. It's full-on!!!
Thespo at Prithvi in April
April saw the opening of Quaff Theatre's Skeleton Woman – Winner of the Metroplus Playwright Award 2009. The young writers Kalki Koechlin and Prashanth Prakash were also directed by Nayantara Kotian in this 75minute one act play. The play deals with creativity & death… the imagination & the mundane… geese & skeletons… and love & writing – not necessarily in that order. Given the houseful opening show and advance booking from the audiences, an extra show had to be announced! The play was very well received and is off to a great start with shows in Delhi immediately following Thespo at Prithvi.
The Thespo workshops were back this month with Shanta Gokhale leading 2 sessions on 'Writing On Theatre'. The workshop was attended by journalists who wanted to enhance their skills, regular audience members who felt the need to share their experiences and new theatre enthusiasts who wished to acquire and/or fine-tune their critical sensibilities. We hope to see a few regular critics emerge from this exercise.
We are on a break in May but will be back with a brand new play in June. Keep watching this space!!!
We are on the look-out for new plays that can be a part of Thespo at Prithvi for the coming months. So if your under 25, and you have play ready that's an hour long, get in touch with us at 9820356150 or email us at thespo@gmail.com
Great Texts:
On the last Monday of each month people meet in Q's drawing room to read a play they may have heard of but not necessarily have read. Writer's come to see how the greats wrote, actors come to play multiple parts and theatre lovers come because it keeps them in touch with the art form. It is open all and everyone takes turns in playing characters from the play. Discussions ensue after over tea and biscuits.
In the month of April, we read Joseph Heller's 'We Bombed in New Haven' - "preparations are being made in the briefing room of an American Air Force station to obliterate Constantinople"
We Bombed in New Haven, written in 1969, was Heller's first and only play. The play delivered an anti-war message while discussing the Vietnam War. It concerns a group of actors who believe they are portraying an Air Force squadron in an unspecified modern war, planning and preparing for an attack on Constantinople, a region that no longer exists. The action alternates between scenes where the players act out their parts in the script and scenes where they communicate among themselves out of "character," expressing dissatisfaction with their roles as being in the military.
The laughter was uncontrollable during the reading with the whimsical dialogue, sharp humour even though it had a serious message. The part where the actors in the play broke out and quoted their theatrical achievements was met with hilarious responses by the readers. Even though the play took almost 3 hours to read, all those who attended stayed till the end with eager anticipation of how the play would end. Although we never thought pronouncing 'Constantinople' would be so difficult.
In the month of May, we will be reading Peter Whelan's 'A Russian in the Woods' - "Amongst the ruins of post-war Berlin, a young soldier is sent for a weekend to guard a deserted British army office. In the corrosive atmosphere of Cold War power struggles, he innocently finds himself caught up in a situation where his conscience is on trial."
Peter Whelan, (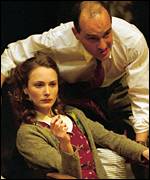 born 1931) is a British playwright and was born and raised in Stoke-on-Trent, England. His works includes seven plays for the Royal Shakespeare Company, the first of which was Captain Swing, in 1979. Important papers of his are stored in the Borthwick Institute, in the Library of the University of York. In 2008, his play School of Night, originally produced at the RSC's The Other Place theatre, Stratford-upon-Avon, in November 1992, made its U.S. debut at the Mark Taper Forum in Los Angeles. It fictionalizes the relationships between Christopher Marlowe, William Shakespeare, Thomas Kyd and Sir Walter Raleigh as well as the events leading up to Marlowe's death.
A Russian in the Woods, concerns itself with the universal political climate which Whelan believes (plausibly) was engendered by that "thinking war" – a world in which "duplicity and lies became the order of the day", and in which such political strategies inevitably came to pollute personal interactions as well. The play is structured as a memory play, which necessarily involves a degree of recounting and in places a "storytelling" mode. The play also touches on the military's attitude to gays.
We will be reading it on the 25th of May at 7:30pm at 18 Anukool, Sq. Ldr. Harminder Singh Marg, 7 Bungalows. Next to Daljit Gym. All are welcome. If you need directions call Himanshu on 26392688 or 9820356150.We hope to see you at these and many more events.